Superintendent Morris Leis is pleased to announce that the Coffee County Board of Education was named a 2013 Quality School Board by the Georgia School Board Association (GSBA).
The Coffee County Board of Education was recognized at the 2013 Annual Georgia School Board Association/Georgia School Superintendent Conference in Atlanta on December 6, 2013. Over 600 board of education members and superintendents from across the State of Georgia were in attendance at the annual winter conference.
Georgia School Boards Association was one of the first board associations in the nation to develop a program of standards. GSBA's recognition program reflects these standards and offers school boards training opportunities to continually increase their effectiveness.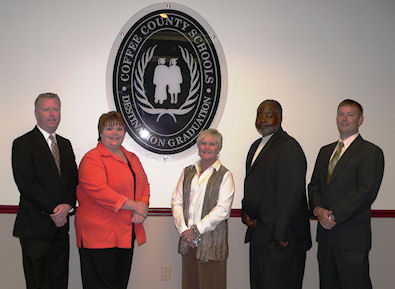 All Coffee County Board of Education members including Mona Moore, Bryan Preston, Ronnie Johnson, Judi Worrell and Adam Lott were recognized as a Quality Board at the GSBA Awards Luncheon on December 6th.