PINES and Coffee Public Library PLAY Cards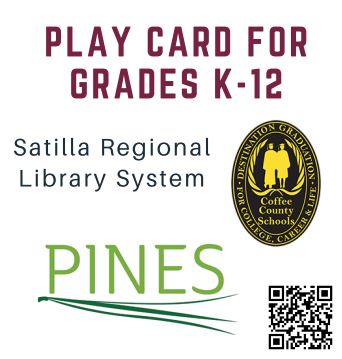 ---
The Satilla Regional Library System have partnered with the Coffee County School District to
offer a free PINES Library Access for Youth (PLAY) library card -- especially designed for grades
k-12 -- to all students at Coffee County's public schools.
There's nothing you have to do to take advantage of this program; students will automatically be
issued a PLAY library card to support academic success. If you do not wish your child to receive
a free PLAY account, please fill out this form: PLAY Card Opt out Form.
The PLAY card offers students many benefits:
1. Check out ebooks, e-audiobooks and digital magazines at https://srlsys.org/your-library-onthe-
go/ and read them on a computer, tablet or smartphone. We have thousands of titles
available through OverDrive with the Libby app, Hoopla, Tumblebooks, and ERead Kids. The
books automatically return at the end of the lending period -- no more worrying about lost
library books or overdue fines!
2. Get homework help through Tutor .com, available free for library card holders at
https://srlsys.org/homework-help . Students and parents can get help with any kind of
academic question in math, science, English, social studies and writing. Expert tutors work with
students in kindergarten through 12th grade and can even help with AP-level and intro-Ievel
college coursework. Plus, Tutor.com offers SAT/ACT test prep.
3. Tumblebooks is a curated collection of children's e-books, with over 1,400 titles for grades K-
6, and this includes animated talking picture books, read-along chapter books, National
Geographic videos, non-fiction books, as well as books in Spanish and French.
4. Your child will have free access to Mango Languages, which offers courses in over 70+
languages. Plus free access to other databases and resources for academic success!
5. The PINES PLAY card can also be used to check out up to five items at a time at the library -including
books, DVDs and passes to museums and parks -- fine free! PLAY accounts will only
accrue charges for lost, damaged or long overdue items.
We are excited to offer this opportunity to Coffee County public school students!
To opt out of the PLAY card for your student, use this link PLAY Card opt out Form