Substitute Teacher Workshop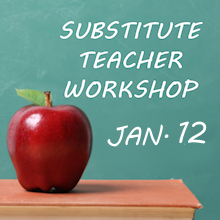 ---
Coffee County Schools to Hold
Substitute Teacher Workshop
January 12, 2022

The Coffee County School System will be conducting a Substitute Teacher Workshop on Wednesday, January 12, 8:00 AM – Noon in the board room of the central office at 1311 South Peterson Avenue.

Prior to the workshop, all applicants are required to register in person at the Board of Education office. While registering you will be given an application packet and asked to complete the criminal background pre-screening. Registration will begin on Wednesday, January 5, between the hours of 8:00 AM and 4:30 PM.

The school system does offer flexible hours, a daily rate of pay, selection of schools and levels, along with opportunities leading to full-time employment with the school system.

Substitute teachers are needed so we hope you will consider working with us.