Flu Vaccines Offered at School this Fall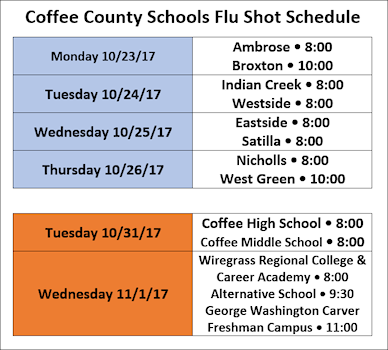 The Coffee County Health Department and Coffee County Schools are teaming up to fight the influenza virus again this year by providing immunizations in our schools. Elementary students will be given a flu packet to take home. Parents of students in grades 6-12 can access the materials using the links below. Contact your school nurse or the Coffee County Health Department for more information. Consent forms should be completed and returned to the schools by Friday, October 13, 2017.
Please note: If the consent form is not signed, dated, and returned, your child will not be vaccinated.
There will be NO Flu Mist given this year, ONLY Flu SHOTS.